This month we are delighted to be sponsoring the Trail Running Ireland podcast for the first time. Trail Running Ireland is a podcast for the Trail and Mountain Running Community in Ireland. The show is hosted by Eoin Flynn, UTMB and EcoTrail Wicklow Finish Line Race Announcer and 10 time Irish International Mountain Runner.
First up in every episode, Eoin is joined by Waterville Trail Running Festival Race Director and Ultra runner Simon Kelly, with the latest race results and fixtures. UKA qualified mountain running coach and professional trail running guide and race director, Rene Borg, also joins Eoin to help make you a stronger and faster Trail runner.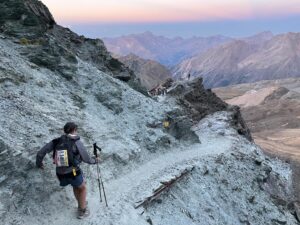 Episode 79 Special Guest: New Leaf's Mairead O'Keeffe
Each episode features a special guest interview. Episode 79 , out on Sunday 8th October 2023 features an interview with our very own Mairead O'Keeffe. Mairead is the owner of New Leaf and her passion is Ultra Running, she has 27 category wins from 58 IMRA races and 7 outright wins to her name. She recently completed the challenging 330km Tor des Geants in the Alps in five and a half days, it has a total elevation gain of 24,000m. Ireland's highest mountain, Carauntoohill, is just over 1000m to put that figure in perspective. Twenty Four Carauntoohills in 5 days, makes you tired just thinking about it!
The podcast is available on Apple Podcasts, Spotify or listen online on the Trail Running Ireland website
As sponsors we've created a Special Discount Coupon for our online store, but we aren't just going to tell you the code here – you'll have to listen to the podcast to find out what it is.