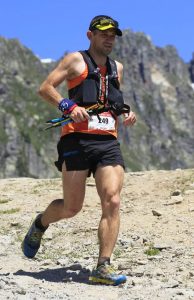 Brian Buckley is the New Leaf Brand Ambassador and we are delighted to welcome him to our team. Brian will be spreading the word about New Leaf health shop to the running community and helping to grow our presence. We will also be letting Brian trial some of the latest sports supplements and share his honest opinions.
Brian Buckley is an ultra trail runner from Cork. He loves running in the mountains & trails around Munster, his favourite being Ireland's biggest mountain Carrauntoohil.
Brian ran his first short trail race in 2015 and was blown away by the buzz & adrenaline rush of the first technical downhill. He was hooked, and progressed to longer races & ultras in the years since. Trail running is a huge part of his life having introduced him to some spectacular places and wonderful people. Brian's won the Kerry Way Ultra 200km in 2019, Ireland's longest & toughest ultra race.
We asked Brian a few questions about his running career.
When did you start running?
I did the Dublin City Marathon back in 2007 as a "one off" as my main sport was soccer. I did a couple more road marathons in Cork a few years later before taking up trail running in 2014. Started off doing the short MMRA races before progressing to the longer stuff.
What's the best thing about competing?
Can't beat the buzz of a race and race day. Putting in a block of training for a specific race and then hopefully everything clicks on the day. Hard to replicate the adrenaline rush and atmosphere from the races. I think everyone has missed them a lot in the last year and a bit.
What supplements do you use before/during & after a race?
I started taking Vitamin B, D and iron/magnesium supplements last year (coach's orders) . I use Tailwind Nutrition for long training runs & races, it's a much easier way to get calories in. I use protein after every run for recovery and I started taking Solgar 7 recently for joint mobility.
How did it feel to win the Kerry Way?
It was an incredible feeling coming through Muckross knowing I had the race in the bag. It was a long battle through the night with Sean who was leading and eventually finished 2nd. After taking the lead with 30k to go a kind of fear crept in that something wrong might happen but I held on for the win and was over the moon.
What races are you competing in this season?
This year I have UTMB in August, 170k through the Alps around Mont Blanc. This is my ultimate bucket list race. I haven't decided on anything else yet but will probably end up doing the Wicklow Way 127k later on in the year.
What do you listen to when you train?
I never listen to music while training or in races, just the voices in my head 😂😂
What is your greatest achievement?
Kerry Way win in 2019 or beating Joe Leary in the Marathon du Mont Blanc that summer 😂
How do you dig deep when it's tough?
Just think about all the hard sessions/runs in training & hours invested over the last few months. They're only wasted if you throw in the towel.
What is your favorite sports quote?
Be all in or all out. John McDonnell, an Irish US college track & field coach. Basically give it your all, no point doing something half assed.
Who is your favorite sports hero?
Tiger Woods for his dedication and winning mentality. Rafa Nadal also for similar attributes and never say die attitude. Two great champions.
Why do you shop at newleafonline.ie?
Friendly and knowledgeable staff and a great range of products to choose from.