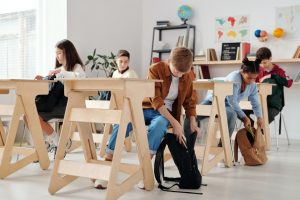 Schools are reopening later this month and we can help our children avoid having to take time off school by taking action now to improve their immune systems.
Try to restore healthy sleep patterns. Ensure that they eat a healthy diet with plenty of colourful fruits and vegetables and that they are spending time outdoors and getting exercise.
You can also use immune boosting supplements to support their immune systems, these are some of the best that we have in New Leaf:
Clinical studies have demonstrated that Elderberry can reduce the severity and duration of colds and flu. Vitamin C has also been shown to have similar positive effects on the immune system. We have tasty and effective liquid supplements which contain both vitamin C and Elderberry – Biocare Children's Elderberry Complex and Sambucol available both for kids and for over 12s.
Vitamin D, the sunshine vitamin, helps to prevent respiratory illness and that it reduces the severity of Covid-19. An easy way to give vitamin D to children is to use an Oral Spray, like the Better You D400 Oral Spray, sprayed into the mouth ideally onto the inside of the cheek.
General multivitamin & mineral supplements make sure kids are getting all they need. There are gummies and chewable tablets available such as Animal Parade Gold by Natures Plus.
If kids get sick or are exposed to colds and flu, try Animal Parade Kid Zinc lozenges. Studies show that Zinc prevents the cold virus from multiplying and may stop the virus from lodging in the mucous membranes of the throat and nose.
Lets not forget Teachers. One of the most effective immune boosters for adults is Solgar's Beta Glucans and Elderberry Immune Complex. Beta Glucans help the immune system to find infections more quickly, which translates to reduced risk of getting a cold and shorter periods of sickness.