Revive Active is becoming increasingly well known. New Leaf has stocked it since this Irish health brand launched in 2011. Not all supplements are made equal, and this is especially true when it comes to Revive Active. Did you know that Revive Active is in fact a Super Supplement, and not just a multivitamin? In addition to a number of high-quality vitamins and minerals, Revive Active also contains amino acids, D-Ribose, CoQ10, L-Arginine and L-Glutamine, which are neither vitamins or minerals, yet are essential for good health. Revive Active is designed to boost your energy and immune system, help protect your heart and support fertility and reproduction.
Revive Active is scientifically formulated with 150mg of CoQ10 in each daily dose to help protect the cells and fight the damage caused by free radicals. Other supplements on the market which only contain CoQ10 at this potency are similarly priced, without having the benefits of all the other ingredients in Revive active, there really isn't anything else quite like it.
While other products may have plenty of ingredients, they are unlikely to match the quantity or quality of those in Revive Active products. Plus it easily dissolves in water making a great tasting drink.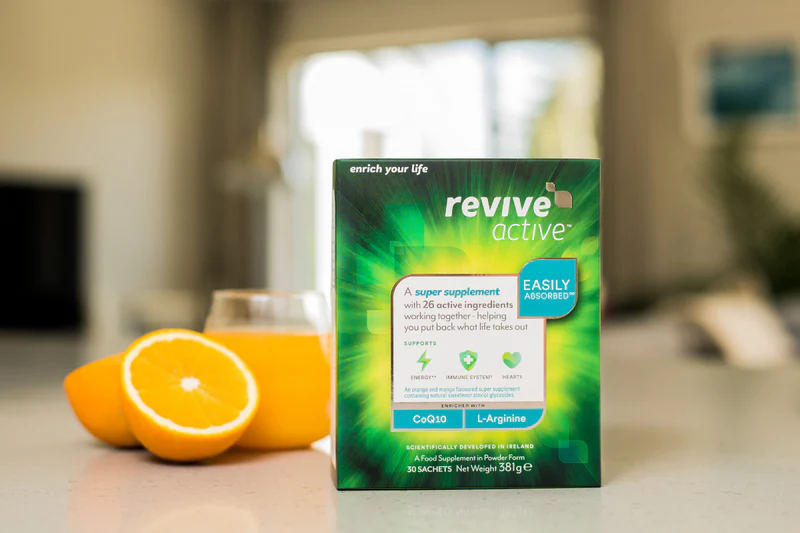 Over time the company has created a range of super supplements to complement Revive Active:
On every box of Revive Active, Joint Complex and Zest Active, you will find the "Informed Sport" logo. It means that athletes the world over, can rest assured of them meeting the highest standards. Elite athletes can safely take the product, as each batch has been tested against the WADA prohibited substance list and found to contain no prohibited substances. All testing is carried out independently of Revive Active, and Informed Sport review thousands of different products globally every year. 
Win a box of Revive Active worth €59.95. To win this great prize email [email protected] with your contact details by 4th October 2022. Please note all entrants will be added to our email list.