Here at New Leaf we demand the highest standards from our suppliers. One company that we have been very impressed with recently is Terranova. We have had a lot of positive feedback from customers as to the effectiveness of the supplements. Terranova Supplements are unusual as they contain a unique combination of plant extracts to help your body to absorb the nutrients. They are also 100% vegan so vegetarians, vegans and everyone else can enjoy the benefits safe in the knowledge that no animal products or testing are involved in their production.

Terranova Nutrition was founded in 2008 by Stephen Terrass MRNT, the former Technical Director of Solgar Vitamins UK. Stephen is one of Europe's leading authorities in natural medicine, with a particular focus on nutraceutical and botanical science and all the products are 100% vegan.This video shows Stephen talking about what he has tried to achieve with his brand.
Here at New Leaf we are really impressed with the quality, effectiveness and the price of the Terra Nova range. Plus the products are ethically produced and are vegan.
The key difference in the approach that Terra Nova take is that the products are "Synergistic Nutrition" – that means that it's the environment in the body which dictates how beneficial a supplement will be. The key ingredients in Terranova's nutritional supplements are not just the nutrients. Each of these products also contains its own unique complex of plant ingredients that is designed to a) enhance absorption, distribution, activity, metabolism, utilisation and function of the nutrient, and b) to help the body to achieve an intense state of synergy.
These are some of our favourite Terranova products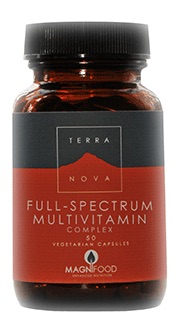 Full Spectrum MultiVitamin
So for example in the Multi-Spectrum Multi Vitamin – not only do you get a complete suite of essential vitamins and minerals, you also get a range of plant extracts to help your body to make the most of the vitamins and minerals that you are taking. Those plants include Spirulina, Green Barley Grass, Stabilized Rice Bran, Sea Buckthorn Berry/Leaf, Blackberry Fruit and Watercress.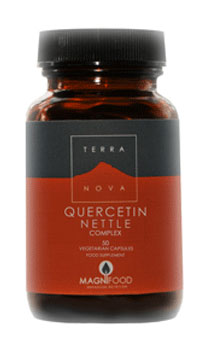 Quercetin Nettle Complex
We have had great reports of the Quercetin Nettle Complex in it's treatment of allergic reactions. It is very effective for both respiratory allergy symptoms and also for skin conditions – rashes and hives.
The whole Terranova range is now for sale on our website. Terranova is one of only a few broad-spectrum supplement companies in the industry that does not use fillers, binders and other manufacturing additives, and one of even fewer companies that is 100% suitable for vegans.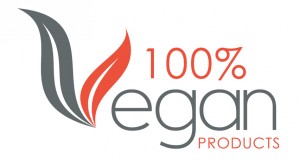 Terranova understand that having to check the labels of everything one buys can be an all-consuming task, so they wanted vegetarians and vegans (or those who were looking for vegetarian or vegan products) to know that it if was a Terranova product it was automatically suitable for them. Terranova is one of only a very small number of broad-range nutritional supplement companies in the world to offer vegan suitability for 100% of its range of products.
A person doesn't need to be vegan (or even vegetarian) to prefer to use vegan products, just as one doesn't have to be sensitive to additives to prefer additive-free products.
[catalog-collection id='393′]