Our personalised gift-boxes are always very popular with customers in Kanturk and Charleville and we are now offering them to online customers. Just select your budget and let us know something about the recipient. Delivery is free to Irish addresses for orders over €50. A personal gift message can be included.
It can be difficult to buy for men so we have put together a few selections to inspire you.

CLICK HERE TO ORDER NOW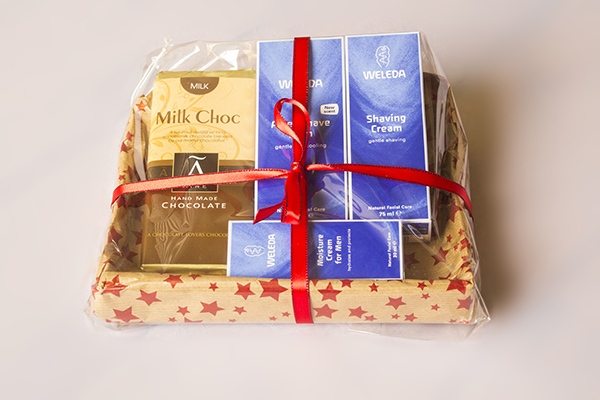 The Pamper pack for Men
The pamper pack would suit a man of any age. It contains Weleda's fantastic shaving cream, aftershave balm and moisture cream. Weleda shaving products are great for sensitive skins and are pleasantly fragranced with a light herbal and sweet almond scent. Aine's Irish handmade chocolates are delicious. This selection is €50. Click here to order.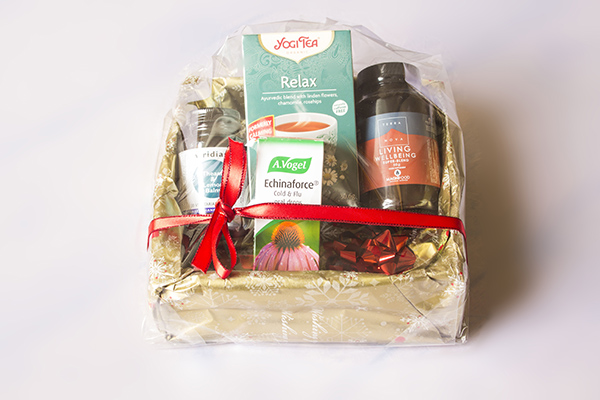 Stress Buster Pack
This selection is ideal for those who have stress in their lives and would suit a man or a woman. Click here to order. This selection will fight the symptoms, boost the immune system and help the body relax. This lovely gift-box costs €50 and includes:
L-Theanine & Lemon Balm Veg caps (helps relieve symptoms such as feeling restless, anxious, tense, and nervous)
Echinaforce – – Helps fight the misery of colds and flu, strengthens the immune system
Terra Nova Living Well Being Super Blend – A unique blend of natural herbs and freeze dried berries, which combined together make a great unmodified superfood. It gives you a great sense of well-being
Yogi Tea Relax – The essence of this tea is: 'Peace and tranquility'.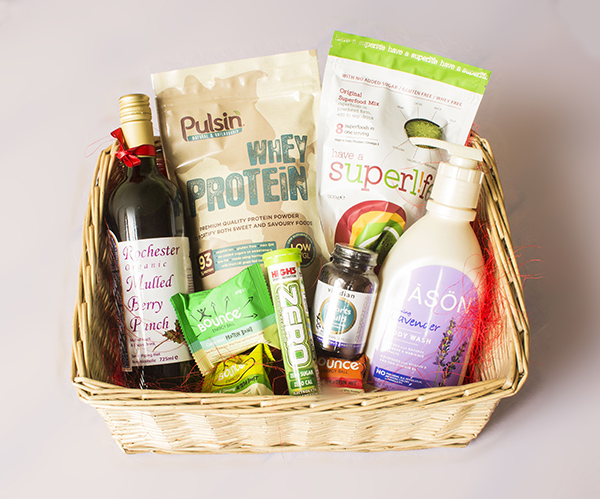 Sports and Well Being Hamper
This Sports and Wellbeing selection is aimed at people who enjoy sport and live an active life. This sporty selection costs €100 and includes some excellent products:
Rochester Mulled Berry Punch – Perfect organic alcohol free punch for any festive occasion
Whey Protein – Excellent protein for strengthening and toning muscle
Superlife Superfood Mix – A great combination of eight raw superfoods that really gives you an energy boost for the entire day.
Jason Calming Lavender Body Wash – Relaxes your senses as it softens and balances your skin.
Viridian Sports Multi – An excellent high potency multivitamin and mineral formula to complement and boost the activity of protein powders and sports drinks.
Zero Sports Drink – Refreshing With Vitamin C and 5 electrolytes, including sodium, magnesium and potassium Suitable for a wide range of sporting activities
3 x Bounce Energy Ball – Protein Hit, Nutrition Boost and Protein Bomb