We are smack bang in the middle of cold and flu season so we thought we'd share a few remedies with you which you might find beneficial if you are one of the many people to have got a dose.
For blocked sinuses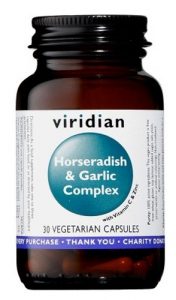 Horseradish & Garlic Complex by Viridian is absolutely brilliant at clearing blockages fast. It's also got buffered vitamin C and zinc which will help boost your immune system.
A Vogel Sinuforce Nasal Spray with Menthol is another great remedy to clear blocked sinuses. It reduces swelling of the nasal mucous membranes, but leaves the natural protective function intact.
For Coughs
Try A Vogel Ivy Thyme Complex. Put about fifteen drops in a small quantity of lukewarm water and drink two or three times daily. Ivy Thyme can be very effective.
For a cold effecting the Nose Chest and Throat
Herbetom is brilliant – it has a wonderful combination of herbs. It can help prevent a cold getting on to the chest and aids the recovery.
Call in and see us or order online if you don't fancy heading out the door!