Coriander is believed to be a natural aphrodisiac. It is also rich in many vital vitamins including folic-acid, vitamin-A, beta carotene and vitamin-C.
2 1/2 cups dried yellow split peas
2 1/2 cups water
1 1/2 tsp salt
1/2 tsp grated root ginger
1 tsp diced jalapeno Chile pepper
1/2 cup diced tomatoes
3 tsp lemon juice
1/2 tsp ground turmeric
2 tsp coconut oil
1 tsp cumin seed
1/2 tsp dried red chilli pepper
2 cloves garlic, finely chopped
1/4 cup chopped fresh coriander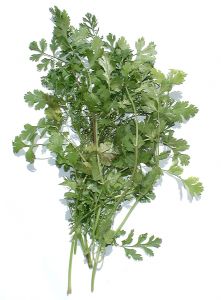 Rinse the split peas and soak in 2 1/2 cups water for 30 minutes.
Bring the split peas and water and salt to the boil. Then simmer for 20 mins, until tender and thickened – add more water if necessary to prevent drying out.
Add the ginger, jalapeno pepper, tomato, lemon juice and turmeric to the split peas and simmer
In a heavy based pan, heat the oil add the cumin and the chilli, you will hear the cumin seeds pop, then add the chopped garlic and fry for 30 seconds.
Pour the oil and spice mixture into the split peas, add the coriander, mix well and serve with Indian flat breads or rice.